Sonic Intercooler Package
Sonic Intercooler Package
Customer Reviews
Write a Review
Ask a Question
Filter Reviews:
parts
performance
Intercooler
anything
mods
stars
time
Sonic
exhaust
highway
11/01/2020
James R.
United States
Really good quality
I'm only giving this 4 stars because of two reasons, one the pipes doesn't actually fit properly on the drivers side, they hit the frame and there isn't enough room for adjustment. It was also missing a screw for the passenger side of the intercooler. Definitely recommend getting one if you are looking for an intercooler kit. I would suggest the u turn on the drivers side pipe be just a bit bigger to wrap around the frame, there is plenty of room for it to be a bigger radius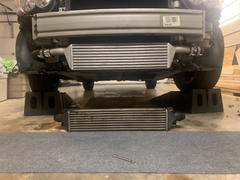 09/02/2020
SINTEC S.
United States
07/19/2020
Scott P.
United States
Dealer Mechanic Likes This Intercooler Better Than Stock
I purchased this intercooler when I had my 2012 Sonic upgraded with the factory intake/exhaust/suspension upgrades a few years ago. I did the factory upgrades first, with so-so performance upgrade, as the upgrades did not include a larger intercooler to take advantage of everything else. Some time after that, I found and added this intercooler. Since I had a good factory re-tune for the upgrades, the factory mods could take advantage of the better intercooling and performance, gas mileage, and smoothness gains all became apparent. I had timed the installation of the intercooler for the expiration of the warranty, so I didn't have any validation issues should anything have gone awry. I needn't have worried. The first time I took it in for an oil change afterward, my tech complimented the intercooler and the installation, and said it was much better than OEM. My car is white with custom blue trim. The entire crew at the dealership where I bought it new now has a nickname for my car: "White Lightning." They say it runs better and performs better than any other Sonic they have sold in the first gen 2012-2015. When I bought it, GM had only ECU'd the upgrades for manual transmission, so the dealer had to keep it an extra week so GM could program a new ECU flash so the upgrades would work on an automatic transmission car. Yes, this intercooler has informal dealer approval to go with the GM upgrade mods. Why not the other mods, or further tuning? Bang for buck. I have now done all I can to it to get the most out of it without essentially doubling the price of an every day car, while being more secure in city traffic and smoother running on the highway. Any more, and I would have to have a new intake manifold, stronger transmission, etc., essentially stage 2, which I'm just not going to pay for at this point on this car, since it performs very well indeed for a city mods hatch sleeper. It is balanced, progressive, reliable, and predictible on all road conditions. Only three details keep it from being a true sleeper: 1) slightly louder exhaust; 2) one little badge on the rear hatch, and 3) exhaust tips. Yes, thisintercooler completed the picture for a perfect stage 1 style installation. Whether a driver is wanting simply more reliability and efficiency, or is going after a true hot hatch build, this intercooler is the one to have, even if you keep the stock tune.
07/05/2020
Anthony V.
United States
Great quality intercooler
You can definitely tell the difference between the ZZP intercooler and the old one. The piping is very well made as far as the strength. Only flaws I came across was in the directions it doesn't tell you where the specific silicone couplings went that were different sizes so you kinda have to figure it out and the second was the discharge pipe doesn't quite line up 100 % and no amount of shifting or moving changed that, it was taller then where the throttle body is and was kind of a reach to the intercooler from the curled pipe. I started to make a tutorial video on installation but I ended up stopping because I got frustrated with how things weren't lining up properly. Other then that I would highly recommend this intercooler it's a beast. The slight issues I talked about in no way takes away from the rating because of the quality and awesome customer service that ZZP has. Keep up the good work!